The Preview mode looks like below figure. In this mode, visitors will see latest posts in category or a tag.
Please NOTE that: Theme supports only one Preview mode in Megamenu

In this mode, menu only has 2 levels (Level 0 and Level 1). Level 1 MUST BE one of the following type: Categories, Tags, and WooCommerce/JigoShop Product Categories.
Please follow these steps to create Preview Mode of mega menu:
Click on Level 0 menu item and select Preview Mode in Menu Style (Menu Style is displayed for Menu Level 0).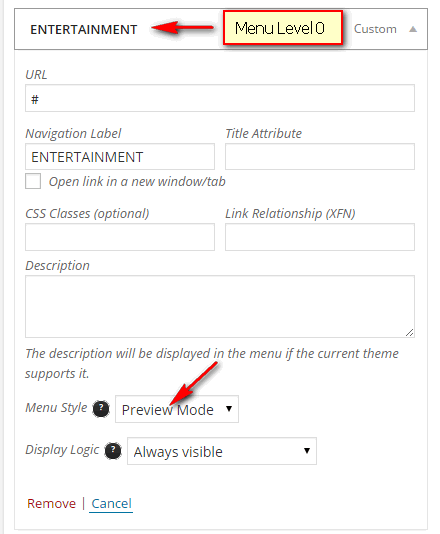 You can configure Display Logic option to control the appearance of this menu item. Please note that Display Logic only works for Primary Menu

Always visible – Always display menu for Guests and Admin Users. It is visible
Only Visible to Guests – Menu is only displayed for Guests when they visit your website, but not display for Admin Users
Only Visible to Members – Menu is only displayed for User Members, but not display for Guests

Click Save