Front-end Submission – Contact Form 7

VideoPro theme offers a powerful Front-end Post Submission function allowing front-end users contribute their videos/posts to your site. This feature is built to work with both Contact Form 7 (Free), Gravity Form (Paid) and QuForm (Paid + Addon) plugins.
If you choose Contact Form 7, please follow these steps to set up the Front-end Submission function:
Step 1: Make sure that you have installed Contact Form 7 plugin on your website.
Step 2: From Dashboard, navigate to Contact > Add New > Create a contact form with fields having these IDs:

video-url

(*)

video-file

(*)

video-code

(*)

post-title
post-description (Needed if Standard Post Format is submitted in Step 4)
video-thumbnail
tag
category (Needed if users want to choose which categories to submit the post to)
channel (Needed if users want to choose which channels to submit the post to)
playlist (Needed if users want to choose which playlists to submit the post to)
captcha (For more details of using captcha, please check http://videopro.cactusthemes.com/doc/docs/faq/how-to-integrate-captcha/)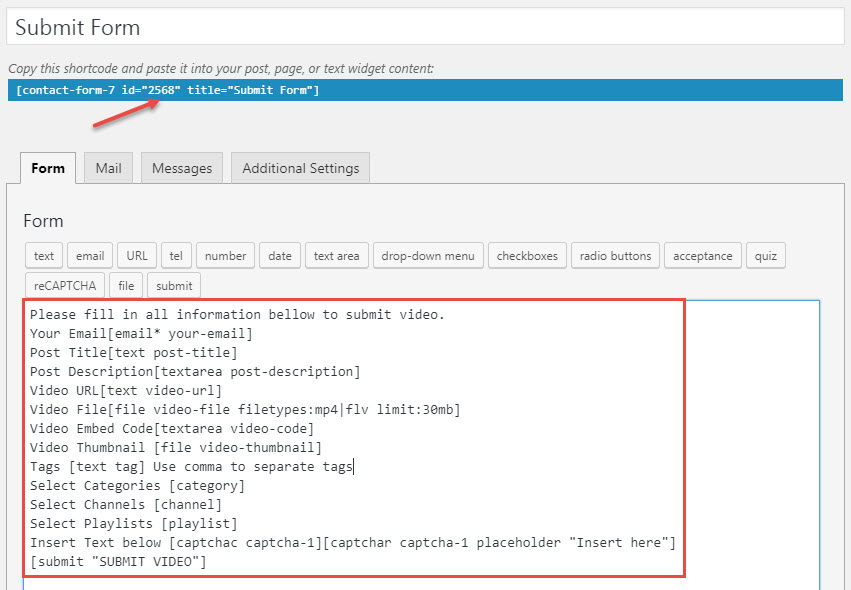 NOTE 1:  It requires information of at least 1 of 3 options

(*)

: Video URL, Video File (Upload) or Video Embed Code 

if in Step 4, Default Post Format is Video

. All other fields are optional.
NOTE 2: Please notice that the video-file and video-thumbnail fields have some extra options to configure as below. For more details, you can refer the document of Contact Form 7 – File Uploading and Attachment settings

File size limit: Set the Limit size of upload File (Limit Upload File)
Acceptable file types: for example: mp4, flv
Below is an example of a Video Submission Form:
Please fill in all information below to submit video.
Your Email[email* your-email]
Post Title[text post-title]
Post Description[textarea post-description]
Video URL[text video-url]
Video File[file video-file filetypes:mp4|flv limit:30mb]
Video Embed Code[textarea video-code]
Video Thumbnail [file video-thumbnail]
Tags [text tag] Use comma to separate tags
Select Categories [category]
Select Channels [channel]
Select Playlists [playlist]

Insert Text below [captchac captcha-1][captchar captcha-1 placeholder "Insert here"]
[submit "SUBMIT VIDEO"]


Step 3: Copy the contact form shortcode, for example [contact-form-7 id="2568" title="Video Submission Form"]. Go to Appearance > Widgets > Drag & drop a Text widget into User Submit Video Sidebar. Paste the contact form shortcode into widget content.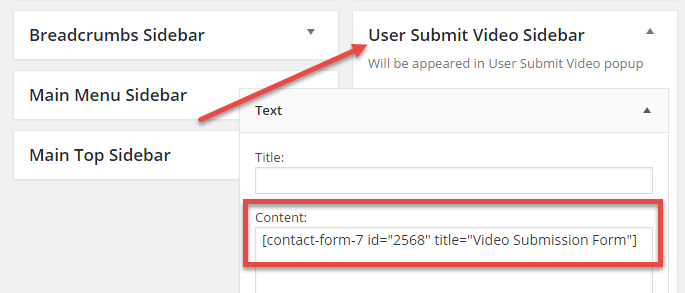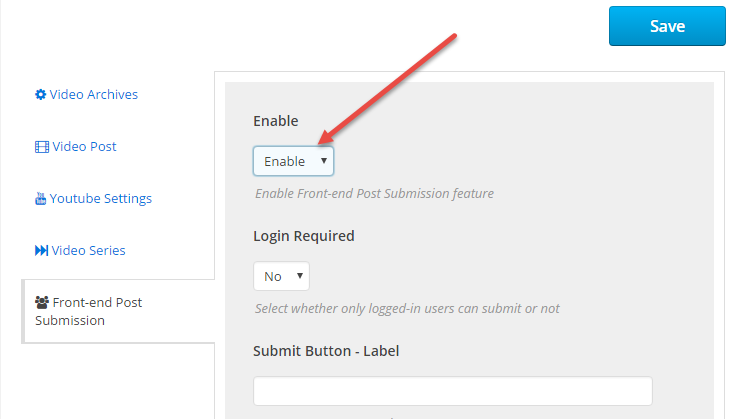 In addition, there are many other options you can configure for the Front-end Post Submission function. For example:

Default Post Format for a submitted post is Video or Standard post. NOTE: when set "Default Post Format" is Video, one of 3 fields: Video URL, Video File, Video Code is required.
Default Status for submitted post is Pending or Publish
Step 5: If you want to send an email (to users) to notify about the acceptance of submitted video, please enable option Notification on Video Extensions > Front-end Post Submission > Notification: Enable.
When the submitted video is approved, user will receive an email notification with a link to the video:

To change the content of this email, please check Change the notification message of Post Submission
Step 6: DONE! All submitted Posts will go directly to Post > All Posts with status is Publish/Pending due to the settings in Step 4 (Video Extensions > Front-end Post Submission)