Since VideoPro 2.0.9, we supply new options which allow you use JW Player Settings instead of default VideoPro video settings. It means that you may inherit many interesting features from JW Player such as HD Quality Toggling, Video Playlist, etc. You can check out the demo here.
Please NOTE that it requires the PREMIUM version of JW Player 7 for WorPress plugin to work. So integrate the plugin first, then follow these steps to configure and use these features:
Step 1: Enable Use JW Player Settings:
There are 2 methods to enable it so you may use for all video files or certain ones.
Apply to all video files: Go to Video Extensions > Video Post > Use JW Player Settings select Yes (Off course, you need to choose Player for Video Files is JW Player 7 to see this option.)
Apply to certain videos: Enable this option in Post Settings when you add/ edit a post

Step 2: Set up JW Player 7 plugin:
In JW Player 7 > Settings choose:
Video Player Position is Custom
Post types is Post
Right now, you can use the settings of JW player 7 plugin for your videos. Below are some interesting features you may enjoy. Before coming through these parts, please make sure the JW Player 7 – Premium Box is enabled in Screen Options of the Post Settings. Now. go ahead and have fun!

1. HD Quality Toggle
This function will add an HD quality toggle to the player, allowing users to switch between multiple qualities of the videos. It is simple to apply this function to the Video post as below:
Create/edit your Video Post
In JW Player 7 – Premium box (at the bottom of Post Settings) > add 1 main Media URL
Click to More sources button to add more video sources with different resolutions
You also can add more information for your video. For example: label the video as HD, SD or 720, 480 etc.

Then the HD quality toggle will appear in the Video player: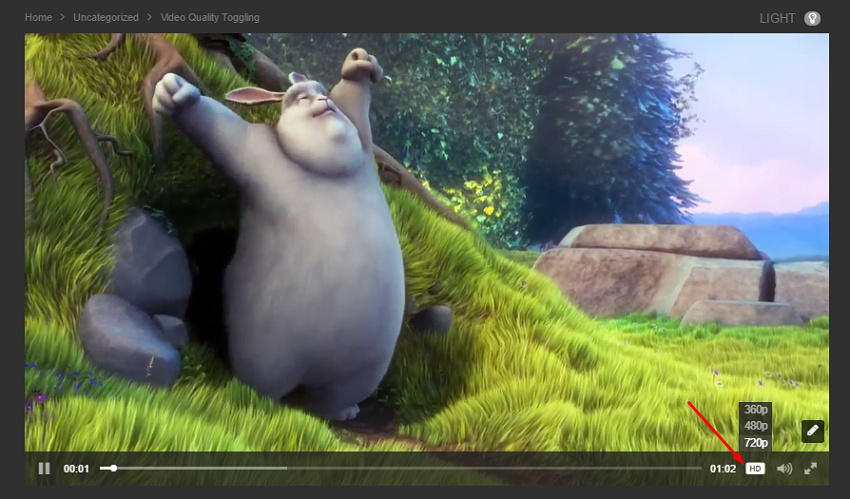 NOTE: The video at Media URL is the default which comes first when the player opens and should be the lower quality version of your file. Once a viewer clicks the HD button and overrides the quality, JW Player saves that in a cookie for subsequent videos.
2. Video Playlist
By using option Use JWplayer 7 settings, you also may make a playlist with the layout as below:

To configure, you just click on "plus" button, then add other media URLs.
NOTE: To use auto next feature in this playlist, you need to turn off Video Extensions > Video Post > Replay Video 
3. Add Chapters, Preview Thumbnails, Subtitles
Check the box Add Chapters, Subtitles or Preview Thumbnails in JW Player 7 Premium section the, then it will appear setting to select & configure one of three options.
NOTE: You just can select ONE of three options: Chapters, Subtitles, Thumbnails in each post.
To add Chapters, enter the values like you see in this image:

This is the result:

Do similarly if you want to add Preview thumbnails

and your  will look like this: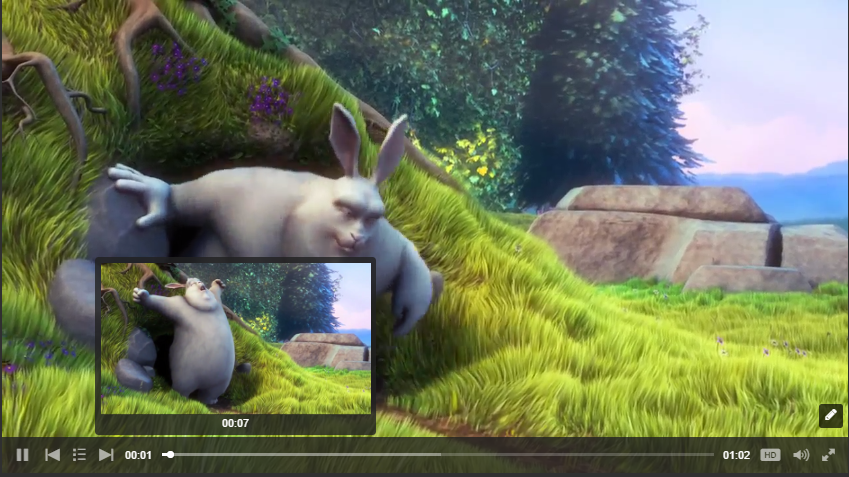 You can add write Subtitles/CC Captions as the example below:

Then the result: