Import Sample Data – One Click Install
Before starting, there are some notes worth checking:
Make sure you have installed all recommended plugins from WordPress repository (WordPress.org) and built-in plugins (especially VideoPro sample data plugin) which come in the full package before importing sample data.
The Widget Logic plugin must be installed before performing the Create Sample Homepage function, so the Post Sliders can be assigned to the appropriate pages and your site is displayed properly.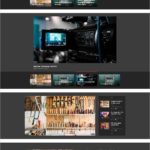 It is better to install sample data on a fresh WordPress installation. Therefore, you may want to reset your site to default settings. Install and use WordPress Reset plugin to do that. After installed, go to Tools > Reset
The import process may take several minutes due to large data and your server capacity. If your server setting "Max Execution Time" is too low, increase it (as your hosting provider). Please do not close the browser until it finishes. If it fails, you can run this process again until seeing the "Success Message".
If you have to run the process more than once, menu items may be duplicated. Just go to Appearance > Menus and edit/delete the duplicated Main Menu items.
To import sample data, please follow these steps:
Step 1: Navigate to Appearance > VideoPro Welcome.
Step 2: Click Sample Data button to import our sample data to your website.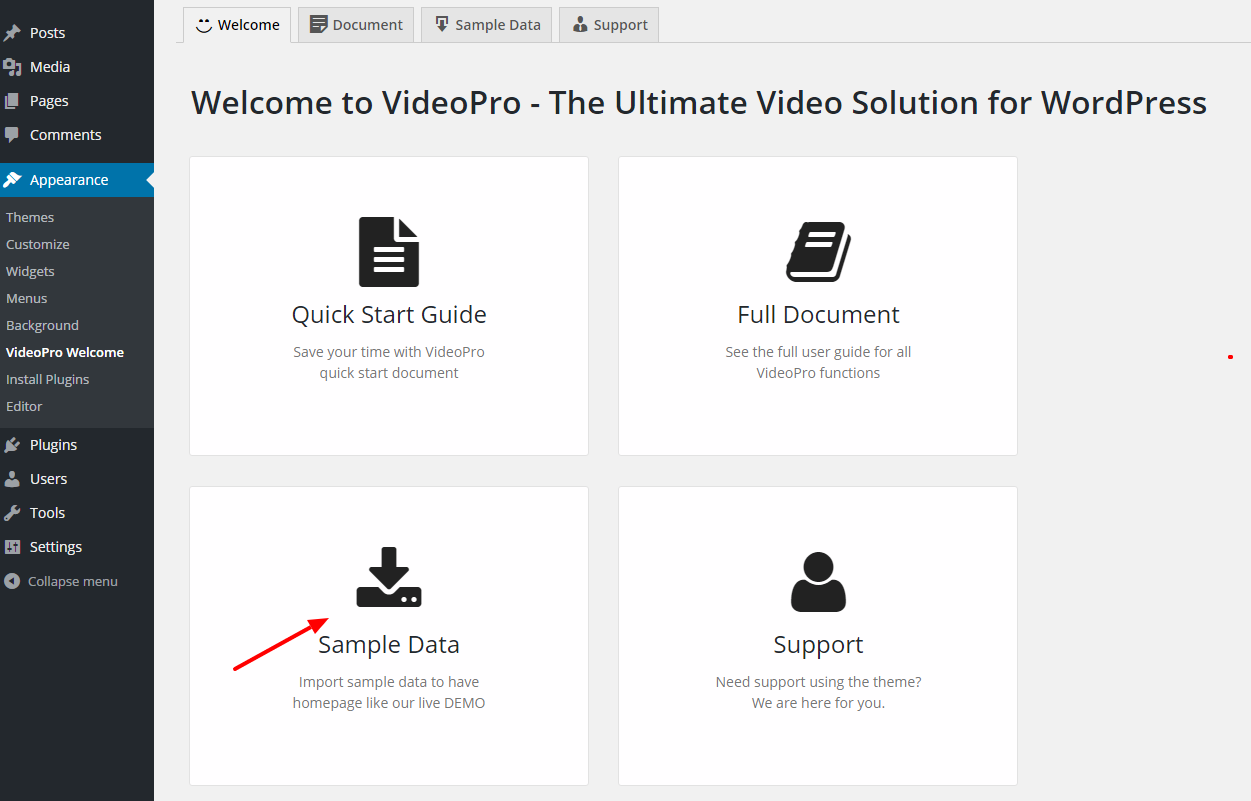 Step 3: There are some sample data packages you can import. Hovering on a sample data package, you can see the condition for it, For example: POSTER SIZE sample data requires the "VideoPro – Child Theme Poster Size" is installed & activated. After choosing the sample data you want, click Import. Please note that, if your site has data already, you can select Import Options only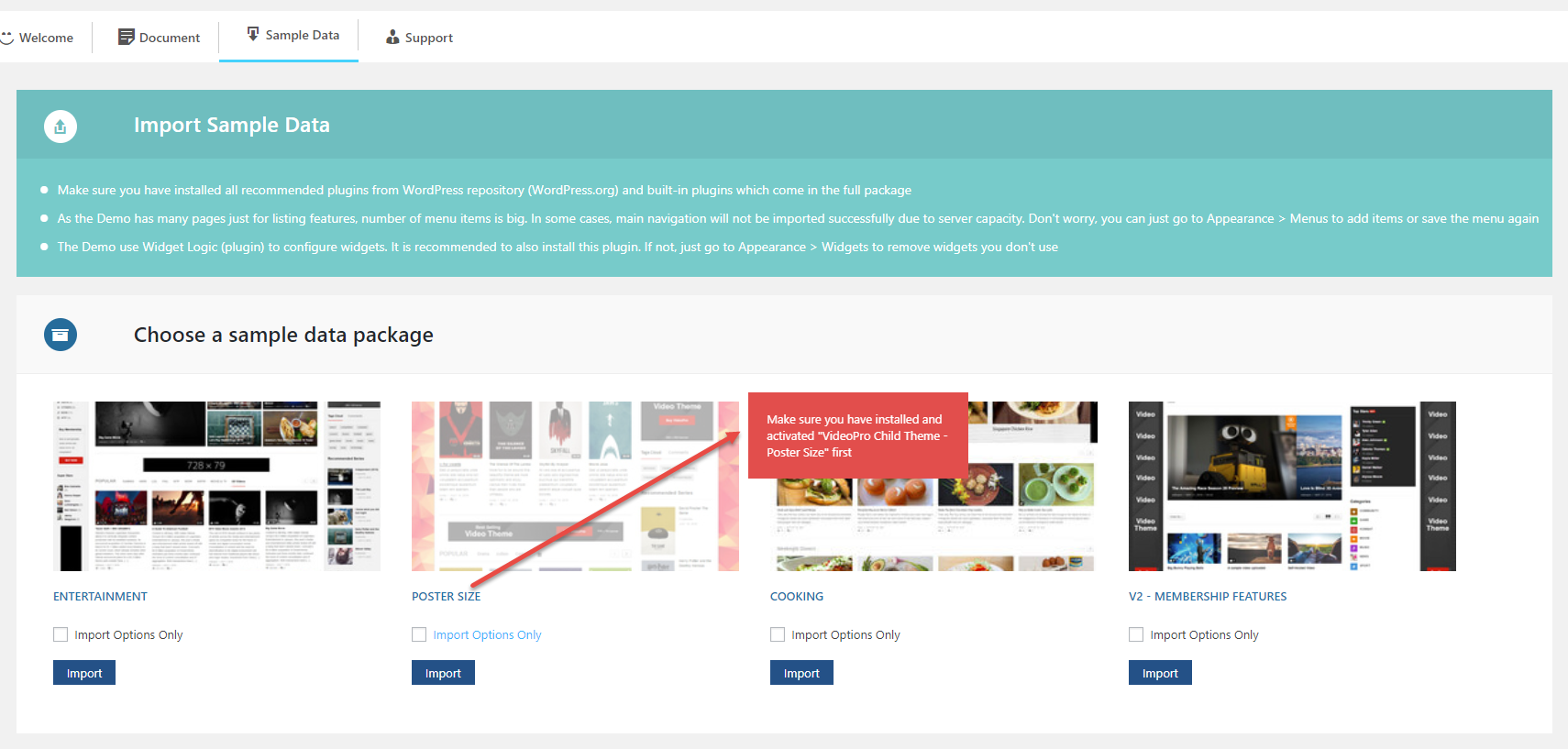 Step 4: If you want to import settings of Homepage from V1 to V11, go to the Create Sample Home Pages section choose the Home Page version you want and hit Create button.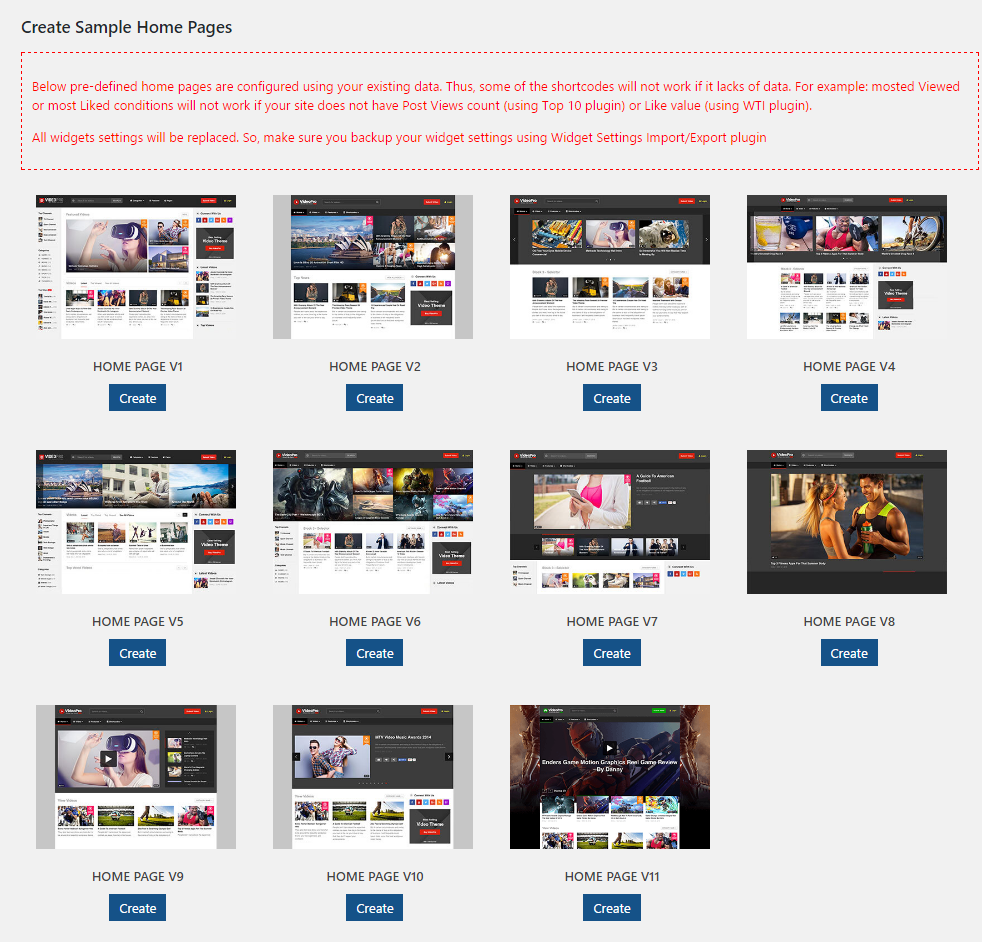 Step 5: After importing the sample data, you may found that some elements are not imported such as Menu Icons, Submit, Newsletter forms. For some reasons, these elements need to be configured manually on each website. But don't worry, we provide detailed guidance to help you complete them as below:
Are you still confused? Check this video or reach us at the Support System, our supporters are willing to help 🙂